Campground felt very tired. Some sites with lots of tree cover and some VERY tight spaces in a rally field with no trees at all. Bathrooms were old and needed work. They were adding park models to the campground but we didn't notice any maintenance on existing facilities. No activities at all for kids or anyone else. Good deal of traffic noise from Route 30 which is only a couple hundred feet away.
Toy Train Museum
Our next train stop took us to the National Toy Train Museum. One of the nicest pieces was the Marklin Wonder Wheel. It was a Marklin dealer display from the mid 1950s not sold as a toy. The train ran inside the wheel! The wheel is about four feet tall.
Another somewhat fun item was the Seven Dwarfs Mining Train.
Choo Choo Barn
The Choo Choo Barn is about 1700 square feet of trains. There are many local features on display such as Dutch Wonderland, an amusement park in Lancaster that opened in 1963 and the Red Caboose Motel (see previous post).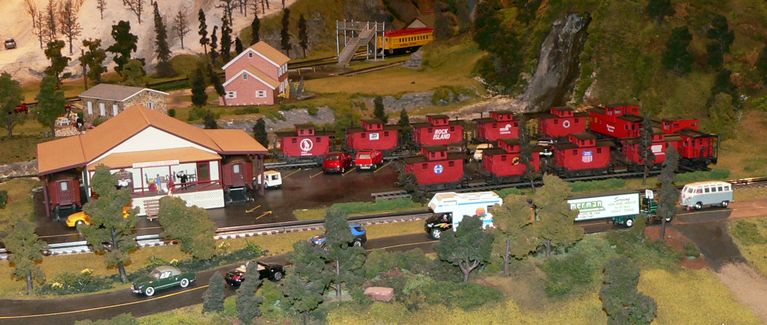 There was also an Amish barn raising and the popular Turkey Hill cow. We have actually gotten stuck for several miles behind one of those on I-78 near Shartlesville.