This was a quick stop on our way to Austin. First, the name of the place; the park owner's grandmother's CB handle was Galloping Snail. When searching for a name, that came up and it stuck. The park has a large activity center which unfortunately was closed. Bob got a tour in the morning. Pool tables, work tables, video games and a vintage trailer acquired on Craig's List serves as the kitchen. Very nice! Clean individual bathrooms.
After settling in, we discovered that we were just a few miles from the George H.W. Bush library. He'd just been buried here a few days before our visit.
The library is quite large and houses an extensive collection of Bush 41 memorabilia. There was a room filled with presidential gifts to and from Bush, and a replica of the Oval Office (Bush kept a baseball glove in a desk drawer and frequently stepped out to the courtyard to toss a ball around).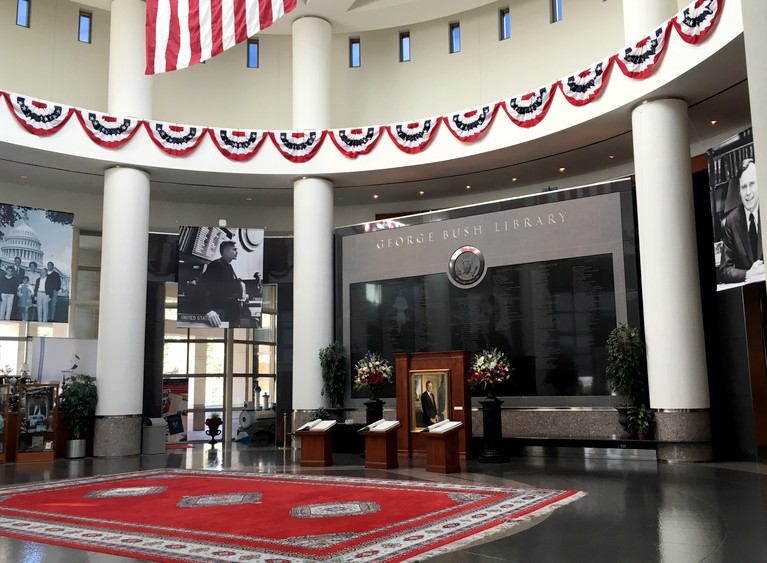 Exhibits traced George's life, with a smaller section devoted to Barbara. Though we usually think of him as a Texan, Bush was a New Englander. He became a pilot at 18, was shot down, then graduated from Yale after the war. George and Barbara married, then moved to Texas to make their fortune in the oil industry. Bush's company pioneered the use of offshore drilling rigs. After succeeding in business, he turned his attention to politics.